TEACHER TRAINING (1926 - 1928)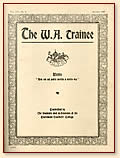 After leaving school Rica joined her family on their farm at Kendenup and was employed as a monitor at Kendenup School where she taught Infants, First and Second Standards. While at Kendenup she started studying externally for her C Certificate in teaching and travelled to Albany for her exams. Transfers and short postings to schools at Mount Barker, Dumbleyung and Gnowangerup followed. While loving teaching, economic conditions were harsh and with only half a crown to spare after paying for her board and lodging, she found herself picking smooth places on the road while walking in order to save on shoe leather, and rationing her stamps for letters home. She had decided, because of her love of the bush, she wanted to be a country schoolteacher and in mid-1927 she enrolled at Claremont Teachers' College in the one-year course to teach in country schools.
The amazing thing about this course in country teaching, although we were taught how to teach the children, we weren't taught how to be schoolteachers. We were not shown a roll, we were not shown the various forms we had to fill out. We were not told about what we had to do about the looking after the toilet system; getting people to nominate whether they would become the nightman; finding cleaners and filling out forms in relation to the tenders for firewood, and things like that. We weren't made aware of these things, so that there were five or six of us ended up in a new school. It's all right if you're into an old school that's got everything laid out ahead of you. There's a roll-call, there's an admission book, there's a journal which had to be filled in. We weren't even told how to make out a program. (Battye Library, OH 2526, p. 65)
While at Claremont Rica lived at an approved boarding house in Walter Street and enjoyed her classes, including studies at the Claremont Practising School, Art, Sex & Hygiene, Psychology and Education, and also the social life of Perth.