George Fletcher Moore
Introduction: Why George Fletcher Moore?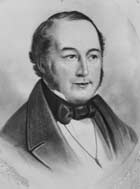 George Fletcher Moore is a familiar name for those who have read histories of the early years of the Swan River Colony. Extracts from his diary and letters were first published in London 1834 and then in 1884 as Diary of Ten Years Eventful Life of an Early Settler in Western Australia.[12] A facsimile edition of Diary of Ten Years was then published in 1978 and has been widely used as an authoritative source for the early years of the Swan River Colony.[13]
Moore is therefore quite well known through Diary of Ten Years, so some may wonder why he has been singled out here. The reason is that Diary of Ten Years was heavily edited and omitted some of Moore's letters and journal entries, but recently, J.M. Cameron has republished Moore's writing as The Millendon Memoirs (2006).[14] Where possible, The Millendon Memoirs is based on an accurate transcription of Moore's surviving letters and journals held in the Battye Library and, where there are gaps in Moore's original writing, it is supplemented with material from previously edited versions. In this edition, 'The correct order and full expression of the letters gives quite a different picture to that previously portrayed.'[15]
This section of 'Finding Home' explores this 'different picture' and considers how it influences our understanding of George Fletcher Moore. However, before discussing some of the differences between the Diary of Ten Years (1884 and 1978) and The Millendon Memoirs (2006), the next two pages provide a brief biography of Moore and a timeline showing the publication history of his letters and journal.
Page last updated: Tuesday 18 January 2011 by Illona Tobin Asset ID 38262
Editors for this page nick 2nd account
login