The Upper Swan in the 1830s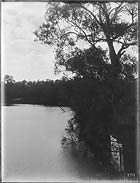 What did the Upper Swan look like in the 1830s?
The area upstream of Guildford was known as the Upper Swan district. Along the riverbank and floodplains there were narrow bands of fertile alluvial soil where a few native grasses and fringing flood gums grew. Further from the river there were marri-wandoo-jarrah woodlands that formed open rather than dense forests. This was partly due to the rainfall, which is seasonal, but it was also the result of land management practices by the Aboriginal people. However, the most common plants were woody perennials unsuitable for European stock animals.
Initial Responses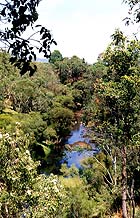 The colonists' first reactions to the Upper Swan were those of disappointment, largely because the environment was not conducive to European forms of agriculture. The land was not as fertile as they anticipated and much of the 'good' land around the Swan and Canning Rivers had been allocated by mid-1830. In March 1830 Eliza Shaw expressed her dismay with the country and declared: 'those who reported the land to be good deserve hanging'. [1]
Page last updated: Tuesday 18 January 2011 by Illona Tobin Asset ID 38150
Editors for this page nick 2nd account
login