Conclusion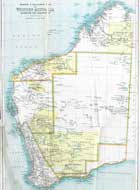 This three part presentation has considered how a few colonists who lived in southern Western Australia responded to the landscapes they encountered, settled in and made homes there. It has spanned seven decades and three diverse geographical regions.
Beginning in the 1830s it discussed George Fletcher Moore, Hester and William Tanner and Eliza Shaw at the Upper Swan, it then looked at Eliza and Thomas Brown, Henry Maxwell Lefroy and Edmund Ashworth in the Avon Valley and concluded with Charles and Campbell Deland and Maude Wordsworth James who lived on the Eastern Goldfields in the late 1890s and early 1900s.
While the responses of these colonists were complex and a detailed discussion of them is beyond the scope of this presentation, it is possible to suggest that, contrary to the common understanding that most colonists were unhappy and found the landscapes around them alienating, some early Europeans to the Swan River Colony responded positively to the environment and some felt emotionally attached to place there and called it 'home'.

At the Upper Swan George Fletcher Moore connected to 'Millendon' and Eliza Shaw felt attached to 'Belvoir'. Eliza Brown developed a sense of home in the Avon Valley but her enthusiasm was not shared by her husband, Thomas, who felt out of place there.
On the Eastern Goldfields the Deland brothers appreciated aspects of the landscape but they remained firmly connected to their social networks in South Australia and always longed to return.

Maude Wordsworth James initially found Kalgoorlie depressing but after ten years she felt that she belonged there. She called it home and at the end of her journal wrote affectionately, 'And glad I am that I still dwell in my dear Mullingar'.[25]
Page last updated: Thursday 23 February 2012 by Illona Tobin Asset ID 47771
Editors for this page nick 2nd account
login