THE DICTIONARY OF WESTERN AUSTRALIANS 1829 TO 1914

The original plan was to make the material collected through the Western Australian Biographical Index available in an edited form in lever-arch files with a copy held in the Battye Library, at the Royal Western Australian Historical Society and in some major country towns. But as the information and interest grew it was decided it would be more economical to offer it in published form.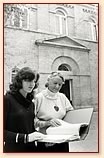 Acting as general editor, Rica collected a committee of distinguished Western Australians together including Reg Appleyard, Geoffrey Bolton, Margaret Medcalf, Tom Stannage, Pamela Statham, and Sandra Taylor. Sponsorship was sought and grants applied for. The Perth Building Society became involved when they offered the use of their typists, and in 1976 a $7,000 grant from the Western Australian Council for the Arts made it possible to employ a typist and researcher.

Work on the West Australian Biographical Index led to the publication of a unique series of volumes The Dictionary of Western Australians 1829-1914. Rica was compiler of volume 2, 'Bond 1850-1868', volume 3, 'Free 1850-1868', which were both published in 1979 to mark the sesquicentenary of Western Australia. Volume 4, 'The Changing Years 1868-1888' was published in two parts in 1984 and 1985, and volume 5, 'The Golden Years 1889-1914' was published in 1986.

While working on the Western Australian Biographical Index and the dictionaries, interest was sparked in the men transported to Western Australia between 1850 and 1887 and she was aware of a reticence to acknowledge convict ancestry. Permission was sought from the Comptroller-General of Prisons to publish the names of convicts and any biographical information on their files. The publication of volume 2, 'Bond 1850 to 1868' coincided with a change in the community's attitude, with people viewing their convict ancestors with pride rather than as skeletons in the closet. The greatest interest in family history in Western Australia in recent years is in the area of convict genealogy.

When made a Western Australian Citizen of the Year in 1980, Rica's contribution to arts, culture and entertainment was considered diverse as a historian, author, naturalist, botanist and artist but her greatest undertaking was seen as her work on the Dictionary of Western Australians 1829-1914.
As volumes 2 and 3 of the dictionaries were published to mark Western Australia's sesquicentenary, it was fitting that the City of Perth added a plaque to the 150 laid in St Georges Terrace in 1979. These plaques were to commemorate the achievement of significant individuals to the State, and in 1999 one was placed on the corner of St Georges Terrace and Barrack Street and reads 'Rica Erickson - Botany, Art, History'.