THE BATTYE LIBRARY
Rica's research into local history took her regularly to the State Library.
I remember going into the State Library when I was very young. It must have been while I was at training college - 1926, '27 - and this HUGE building with galleries of books all the way around it, and staircases, a little spiral staircase to get up to them - and there I was in my 'seventh heaven' except that I couldn't read the lot.

Then later when they extended the annexe and had a little buiding for what was to become the Battye Library (it was the State Archives) I remember from Bolgart when we had started our historical society there, two of us were sent down to Perth, to investigate the origins of Bolgart. The Battye Library had been opened a very short time before. Mollie Lukis was there, still in the process of sorting things out. She had one table and two chairs and only two letters, I think it was, to show us, that Captain Scully, the first Resident Magistrate at Bolgart, had written. You go there now and you find sheaves of them. Mollie must have only just been starting her work.

Well, when we came to live in Perth, and even before, I used to go to that little Battye Library, and when I came to Perth I practically lived in it (especially when I was working on various histories and our dictionaries) and felt quite lost when we moved over to the new library. (Battye Library, OH 2526, p. 57)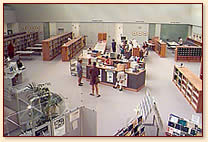 Rica developed an intense awareness of the need to research and record the early history of Western Australia and to preserve original material before it was lost or destroyed. It was at the Library that she met Lady Alexandra Hasluck, also doing research. Rica approached Lady Hasluck to say how she identified with Portrait With Background: A Life of Geargiana Molloy (1955). For Rica, Lady Hasluck was a role model as a historical researcher and writer.

Though she had been a regular visitor to the Battye Library from the 1950s and a foundation member of the Bolgart Historical Society, Rica only started to earnestly pursue her interest in history after retirement to Perth. One of the benefits of living in Perth was being able to visit the Battye Library as often as she liked. It was then that she had the resources to spend more time on the projects she had been working on, such as the local histories of the Toodyay and Victoria Plains districts and a biography of the first government botanist who lived locally, James Drummond.
It was as a result of her research at the library that Rica was approached by Mollie Lukis, the State Archivist, to write an entry on James Drummond for the first volume of the Australian Dictionary of Biography. Rica was then invited to become a member of the Australian Dictionary of Biography Committee and wrote further entries on Samuel Pole Phillips, William Henry Timperley, Daniel Connor, Mary Martha Farrelly, Eliza Tracey and John Truman.