RESEARCH AND FIRST PUBLICATIONS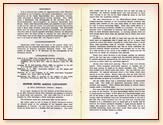 By the late 1940s Rica's work was being published in journals including The Western Australian Naturalist, The EMU (the journal of the Royal Australasian Ornithologists' Union), Wildlife, and in the life and letters pages of the West Australian newspaper. However, it was for her work on native flora that she was to become best known:



Anything that moved in plants I found fascinating, because you realise that plants are moving things all the time. I mean they're growing and that's a movement. It's so slow you don't notice it, but when you get a swift movement, like a trigger plant's movement, and a similar movement with some of the orchids as well, and then also the Drosera (that is the sundews) with their slower movements, but quite visible, these moveables, discernably moving plants fascinated me to such a degree I couldn't help but gather everything I could on them. (Battye Library, OH 2526, p. 153)
Her research on orchids culminated in 1951 with the publication of her first book Orchids of the West, but by this time her interest had shifted to trigger plants. It was the botanist at the Melbourne Herbarium, J.H. Willis, who helped by identifying the Latin botanical names of the specimens of trigger plants collected by Rica and once again she reciprocated by sending him specimens from Western Australia.
After the publication of Triggerplants (1958) her research then moved to the the carnivorous bladderworts, sundews and pitcher plants usually known as fly-catchers. This study took her to Kew Herbarium in London. Ten to twelve years of intermittent research was involved in the publication of her third book Plants of Prey in 1968.

In 1957 the first wildflower tour was conducted by the Midland Railway Road Service, led by the State Botanist, Charles Gardner. The following year Rica was delighted to be asked to lead the tour, seeing it as an opportunity to be paid for a holiday for which she would gladly have paid. In the following years she was employed as the botanist on several tours travelling with tourists both to the north and the south of the State to share her love and knowledge of plants.
In 1973 Flowers and Plants of Western Australia was first published. This book on Western Australian wildflowers and designed for popular use contained over 500 colour photographs and was the combined effort of Rica Erickson as chairman and coordinator, Alex George and Neville Marchant as botanists, and Michael Morcombe as the photographer.
In December 1966 the council of the Western Australian Naturalist Club recommended that Rica be awarded honorary life membership of the association in recognition of her services to the club and to natural history.