Rica Erickson Botanical Collection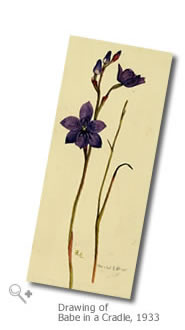 The Rica Erickson archives in the Battye Library includes nearly 500 original watercolour illustrations of Western Australian plants from 1932 to 1992, including those used to illustrate her books Orchids of the West, Triggerplants and Plants of Prey in Australia.
Botanical art is not merely decorative but faithfully and scientifically reproduces the plant, creating a work of art that is not only admired for its beauty but also can be studied or kept as a botanical record. Rica Erickson's art is especially noteworthy for its attention to detail, beauty and scientific accuracy.
Rica Erickson's career covers work as a naturalist, botanical artist, historian, writer and genealogist. Her interest in Western Australian history has been a lifelong passion culminating in the publication of genealogical dictionaries and several books. In 2002, then aged 93, Rica was the first recipient of the Friends of Battye Library's Gem of Time award established to honour Western Australia's living treasures with a connection to the Battye Library.
Rica Erickson has received many honours for her work including having insects and plants named after her. In 1980 she was awarded an honorary degree of Doctor of Letters for her work in the fields of Literature and Botany, and in the same year was WA Citizen of the Year for outstanding service to the Arts, Culture and Entertainment. She became a Member of the Order of Australia in 1987 for her services to the Arts particularly as an author and illustrator. A website created by the Battye Library showcases her remarkable career and botanical art.
The Treasure
(Click on one of the thumbnails above to see a larger image)
Further Reading
Erickson, Rica, Orchids of the West, Perth: Paterson-Brokensha, 1951.
Hewson, Helen, Australia: 300 years of botanical illustration. CSIRO Publishing, 1999.
Links