Drawings by Billingee
A 20 page drawing book, illustrated by Billingee, an Aboriginal male from Jajjala near Broome, was presented in 1907 to Sir Frederick Bedford, Governor of Western Australia 1903-1909, by Daisy Bates, noted social worker and anthropologist.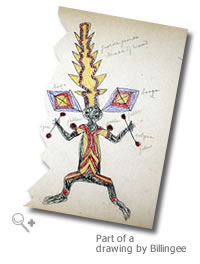 The drawings of Aboriginal weapons, implements, artefacts and animals are in pencil and coloured crayon. They are rich, vibrant, with bright yellows, greens, pinks, reds, greens and browns colouring shields, spears, wooden vessels, pearlshell ornaments, nosebones, parrotfish, emus and kangaroos. Each drawing has a pencilled label by Daisy Bates. She, in her letter to Sir Frederick Bedford which accompanied the drawing book, described this example of Indigenous art when she wrote:
"I hope the paintings will interest yourself and Lady Bedford. They are really unique here in WA."
Sir Frederick George Denham Bedford was born in England in 1838. He entered the Royal Navy in 1852 and served with distinction, rising to the rank of vice admiral in 1897. He was appointed Governor of Western Australia in 1903 and proved extremely popular. Bedford and his wife Ethel, who he married in 1880, travelled widely in Western Australia. He was fond of children and had a sometimes unorthodox sense of humour. He returned to England in April 1909 and died in 1913.
The Treasure
(Click on one of the thumbnails above to see a larger image)