ElizaShaw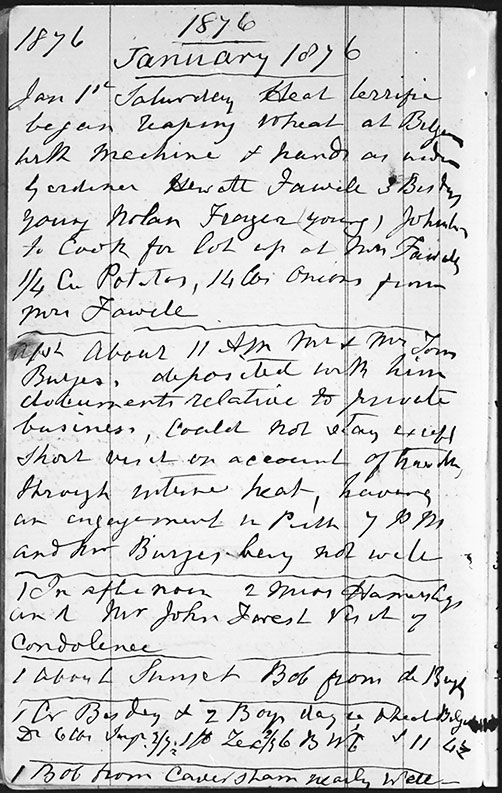 Transcript
This is a page from Eliza Shaw's diary in the Battye Library on microfilm ACC2088A. It was one of her last entries, written only 5 months before the end of her diary, and approximately 18 months before she died in 1877. She was 81 years old and her handwriting is quite hard to read. I have included this page here so readers can see some of the challenges of doing research using original material, and while I have made every effort to transcribe this page there are a number of words that are illegible. These are indicated by [?] and guesses are indicated by putting the most likely word in the brackets followed by a question mark, for example, [Belvoir?].
1876
January 1876
Jan 1st Saturday Heat terrific began reaping wheat at [Belvoir?] with machine & hands as [well?] Gardiner [?] [?] and [Bisdey] young Nolan [Ferguson?] (young) Johnston to cook for lot up at Mrs [?] ¼ cwt potatoes, 14 lbs onions from Mrs [F?]
[?]At about 11am Mr and Mrs Tom Burges deposited with him documents relative to private business, could not stay except short visit on account of [?] through extreme heat, having an engagement in Perth 7pm and Mrs Burges being not well.
In afternoon [2?] Mrs Hamersley and Mr John Forest[sic] visit of condolence
About sunset Bob from deBurgh
[Cr?] Bisdey and 2 boys [?] the wheat [?] [details about the weight of the wheat difficult to decipher]
Bob from Caversham nearly well
Page last updated: Tuesday 18 January 2011 by Illona Tobin Asset ID 39857
Editors for this page nick 2nd account
login
Please note: The content on this website is made available for archival purposes and may not meet the State Library of Western Australia's current standards for web accessibility, mobile device compatibility, historical accuracy and cultural sensitivity.