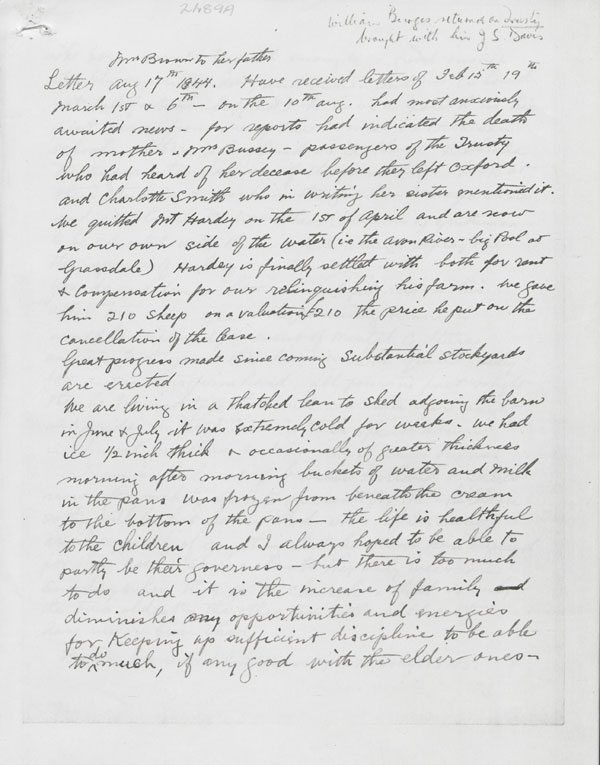 Transcript
12_Eliza Brown, page from one of her letters, Correspondence 1840-1860, ACC2489A
Mrs Brown to her father
Letter Aug 17th 1844 Have received letters of Feb 15th 19th March 1st and 6th – on 10th Aug. had most anxiously waited news – for reports had indicated the death of mother and Mrs Bussey – passengers of the Trusty who had heard of her decease before they left Oxford and Charlotte Smith who is writing her sister mentioned it. We quitted Mr Hardey on the 1st April and are now on our own side of the water (i.e. the Avon River - big Pool at Grassdale) Hardey is finally settled with both for rent and compensation for our relinquishing his farm. We gave him 210 sheep on a valuation £210 the price he put on the cancellation of the lease.
Great progress made since coming substantial stockyards are erected.
We are living in a thatched lean to shed adjoining the barn in June and July it was extremely cold for weeks. We had ice ½ inch thick and occasionally of greater thickness morning after morning buckets of water and milk in the pans was frozen from beneath the cream to the bottom of the pans – the life is healthful to the children and I always hoped to be able to partly be their governess - but there is too much to do and it is the increase in family diminishes any opportunities and energies for keeping up sufficient discipline to be able to do much, if any good with the elder ones…
Please note: The content on this website is made available for archival purposes and may not meet the State Library of Western Australia's current standards for web accessibility, mobile device compatibility, historical accuracy and cultural sensitivity.